Africa's healthcare systems were always unequal and the COVID-19 pandemic has exacerbated disparities, exposing critical gaps at institutions. This is according to Dr Acha Leke, Senior Partner at McKinsey's Johannesburg office and Chair of McKinsey Africa.
"I think we need to recognize [that] we've made progress […] having said that, there are [still] significant gaps," Dr Leke says, adding that in the pandemic, there has been limited access to personal protective equipment and test kits.
He was speaking at a roundtable discussion, Bloomberg New Economy Forum, co-hosted by the Mandela Institute for Development Studies (MINDS) on November 18. The session theme was "African perspectives in Investing in Health for Economic Development".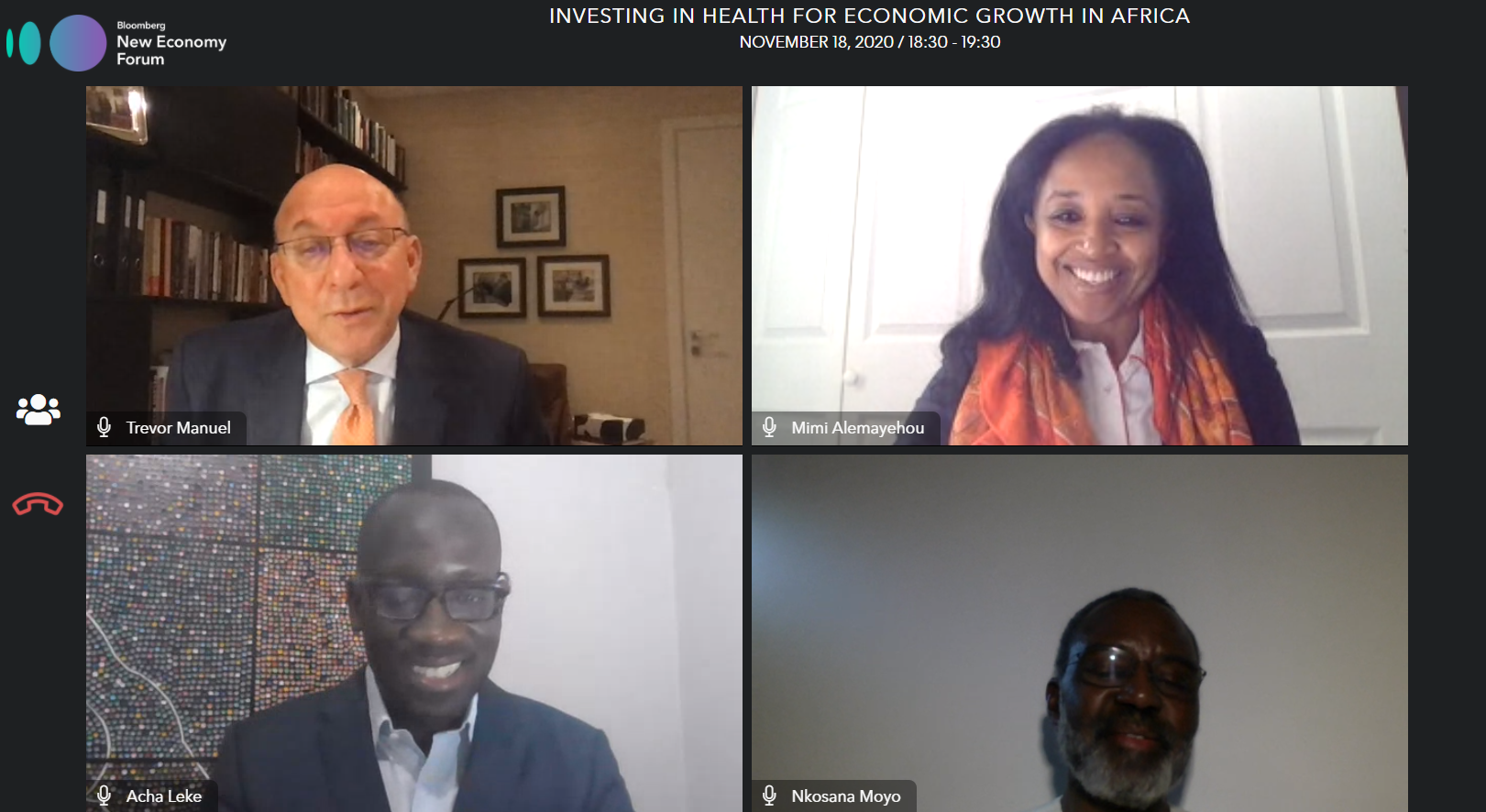 Dr Leke was speaking alongside MINDS Founder, Dr Nkosana Moyo, Ms Mimi Alemayehou, Senior Vice President for Public-Private Partnerships in the Humanitarian and Development Group at Mastercard. MINDS board member and former Finance Minister of South Africa, Mr Trevor Manuel, moderated the discussion. 
Mr Manuel notes that, in parts of the continent, there are highly specialised health facilities.
"But those are rare luxuries," he points out.
When the pandemic first hit, South Africa and Kenya put in place fact-based plans to counter the wave, adds Dr Moyo. 
"I would not say that [that was the case for]   other countries, they did not come across as being that structured," Dr Moyo says. 
Investment in Africa's public health system has been perennially low.  According to a Stanford Business article, issues such as staff shortages, rampant corruption, and counterfeit drugs hinder progression.
"We only spent about five to six billion dollars a year on healthcare infrastructure today," Dr Leke says, adding that, in reality, that number has been on a downward trend, declining by about five percent per year over the last decade. 
"You find that armies and intelligence services are well-equipped because our politicians are investing in protecting themselves, not actually looking after the population as such," Dr Moyo suggests. 
Ms Alemayehou supported this adding that good governance is really at the core of Africa's problems.
"I'm not talking about just corruption, because I think when people talk about good governance, they talk about corruption [there is also] the lack of transparency," she posits. 
Dr Leke also notes that technology is also playing a part in driving the continent forward and transforming people's lives. However, he says there has not been much innovation in the Africa-wide health sector. 
"Everyone is talking about tele-medicine. But how do we make that happen?" Dr Leke challenges. 
Dr Moyo responded that there is a tendency to get comfortable in delegating the responsibility of getting resources from Africa's leaders. 
"Which tends to be the default position of a lot of our leaders which, I think, is totally unhealthy. 
."We need to be asking ourselves; how do we get our own countries, our own economies, to generate the necessary resources?"