Archlove Takunda Tanyanyiwa, MINDS Alumni 
Twitter: @archlovetakunda
Facebook: Takunda Archie Tanyanyiwa
The Southern and East Africa Workshop on Elections and Governance MINDS enhanced my capacities and added much value to my skills and approaches to governance in Africa.
My exposure with the Mandela institute for Development Studies (MINDS) brought several changes in my career from different dimensions. One of the key elements of the exposure has been how the short curriculum is modelled to develop the capacities of young people in championing participatory democracy particularly through elections.
After the progressively packed workshop, I went back to Zimbabwe and continued with my work in strengthening systems of accountability through the capacitation of grassroots communities by creating spaces of knowledge sharing and political conversations with both the elected and their communities. Having mapped various activities prior to the elections, I managed to facilitate two major activities, one with young rural women and the other with prospective political players from different political parties under the #ZwElectionPledge2018 Campaign. The knowledge, skills and networks created strongly changed me and reignited my energy towards efforts to impact young grassroots activist prior, during and after the elections.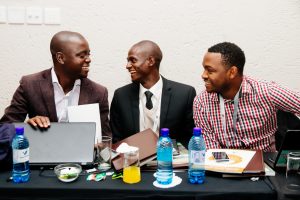 Having invested much to broaden my networks, I have been working more on connecting with organizations that promote the participation of young people in democracy and human rights and democracy from different angles. It is from this background that I am currently attached with the Students' and Academics' Assistance Fund (SAIH) as one of the Program's Officer from the 12 months long FK Exchange Program facilitated by the Youth Empowerment and Transformation Trust in Zimbabwe. I am now  currently engaged in several initiatives that involves the capacity development of student activists across various universities, enhancing international knowledge of Africa as well as strengthening different programmatic areas particularly with partners from Africa.
This exposure among other things have been facilitated by my continued work in human rights and democracy, mobilizing students in tertiary institutions to participate in governance and electoral process towards a participatory democratic country and further engaging grassroots rural communities towards inclusivity.
Today, I continue working harder in strengthening systems of accountability from both an African as well as global perspective.
Lastly, I hope to constantly work with the Mandela Institute for Development Studies in its vision to strengthen the capacity of young people and harness the African potential through an Afrocentric knowledge system and pan African oriented think tanks. It is a platform that enhanced my capacities and added much value to my skills and approaches to governance in Africa.